Capacity building for engineers and managers in the MENA region
Renewables Academy (RENAC) • Preparatory online seminars and praxis-oriented workshops.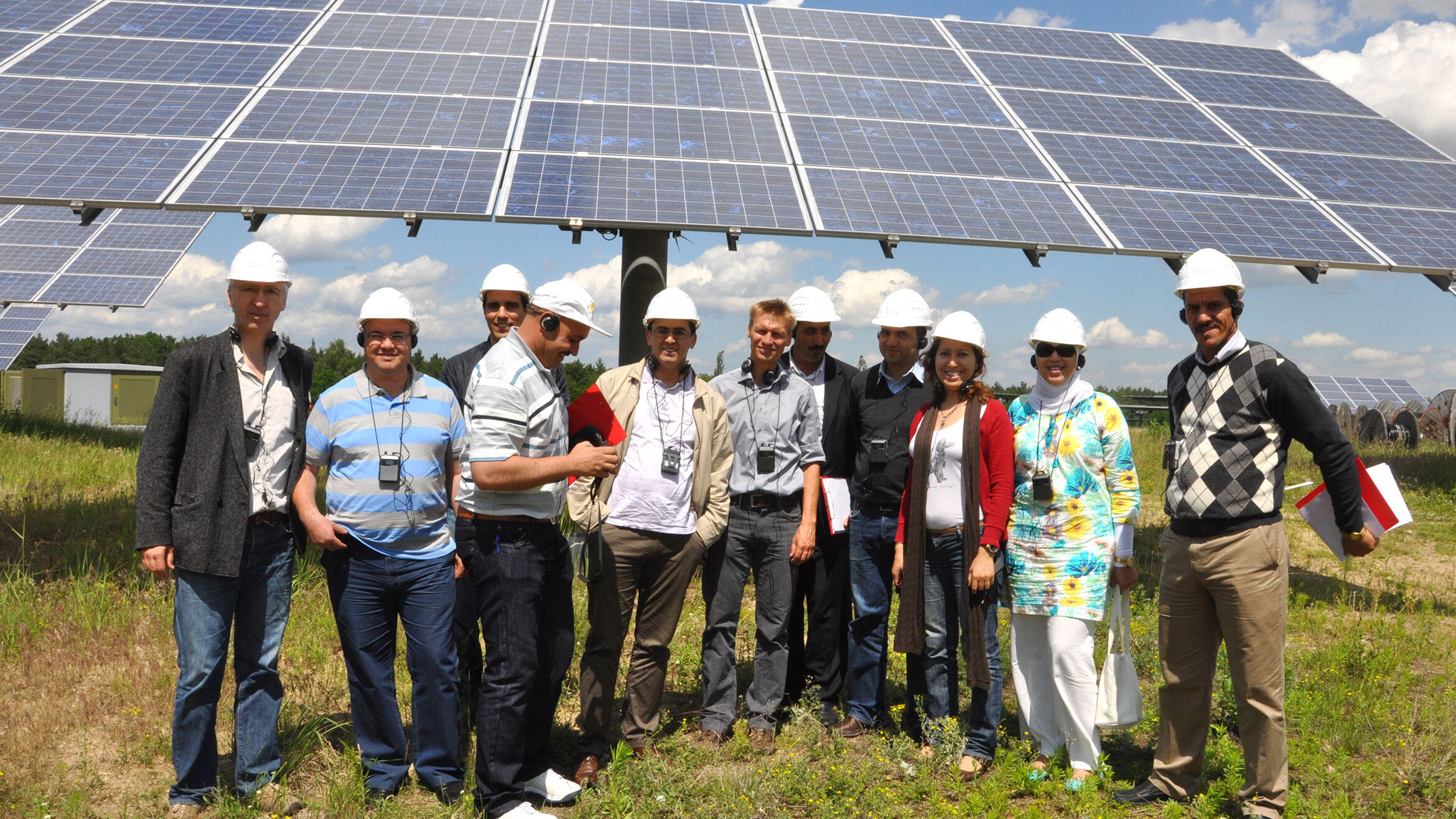 With its headquarters in Berlin, RENAC is Germany's leading provider of vocational training and continuing education in the field of renewable energies and energy efficiency. Since its establishment in 2008, more than four thousand participants from 130 countries have benefitted from RENAC's training courses and also from the incidental exchange amongst each other.
In order to increase worldwide attention for its educational programmes, RENAC directly addresses energy agencies, educational institutions, ministries and enterprises in the respective target countries. The company likewise closely cooperates with German institutions and associations that are part of a strong international network, including iMOVE. RENAC already used the opportunity of presenting its service provision during an iMOVE delegation visit to the MENA region.
Due to their favorable climate conditions, the countries of the MENA region have a particularly high potential for sustainable energy generation. In the ReGrid Project of RENAC, which started in 2011, students from Algeria, Egypt, Jordan, Lebanon, Libya, Morocco, and Tunisia learn how large quantities of wind- and solar-generated electricity can be fed into the network without any negative impact on the power system. To this end, RENAC has developed a multi-stage training programme with online courses, classroom seminars, and other types of educational offers. The ReGrid Project is supported by the International Climate Protection Initiative of the Federal Ministry for the Environment, Nature Conservation and Nuclear Safety (BMUB), which is financed by the Energy and Climate Funds and through auction revenues from emissions trading.
In an initial stage, RENAC held preliminary talks with ministries, energy providers and network operators in the partner countries to determine the requirements for expertise in each country. The range of introductory online courses focused on the fundamentals of wind power, photovoltaics and solar-thermal power stations as well as the crucial concepts for stabilizing power networks when feeding in renewable electrical energy. The participation was not only helpful in preparing for the subsequent classroom seminars, but was also a prerequisite for taking the examination. This was highly demanding as successful participants had to be in a position to implement the corresponding quality standards in the market from the onset.
In addition, interested parties were able to apply for a grant for a two-week seminar at RENAC's Renewable Energy Training Center in Berlin. Seven of a total of 14 seminars were aimed at engineers. In particular, the focus here was on the technical aspects of network integration. Another seven seminars were aimed at participants from management and administration. They gained a basic understanding of the technical problems of network integration and project planning expertise.
In order to be able to address each participant individually and to guarantee learning success, RENAC only allowed a maximum of twelve applicants per seminar. RENAC places particular value on interactive instruction with the highest possible amount of practice. To this end, numerous practical exercises, group work and strategic exercises were integrated in the classes. For example, participants had to develop a national strategy based on an electricity consumption of which 80 per cent would be covered by renewable energies by 2040. This scenario was examined in the seminar at both a technical and political level then.
Using the technical equipment in the RENAC training center, participants could simulate the operation of the system under real conditions. In addition, excursions to multi-megawatt solar and wind farms, control rooms for electricity networks and network connection installations were arranged.
As not everyone has the opportunity to travel to Berlin, RENAC has also prepared training courses in which people can learn more on the subject, even locally. Advanced online training courses have started in 2014, conveying the content of the classroom seminars held in Berlin. In addition, RENAC has also designed a mobile exhibition in English, French and Arabic, which will be shown as travelling exhibitions in the partner countries. A total of 15 exhibition boards can be borrowed free of charge by RENAC's local partner organizations. Informative brochures and teaching materials in Arabic can be downloaded from the RENAC website.
Information
This sucess story was first published in the iMOVE publication Developing Skills for Employability with German Partners • 8 Success Stories from the Renewables and Cleantech Sector. The brochure was published in 2014.
---