Training centres for market development
Knauf • Qualified continuing education on how to handle high-quality products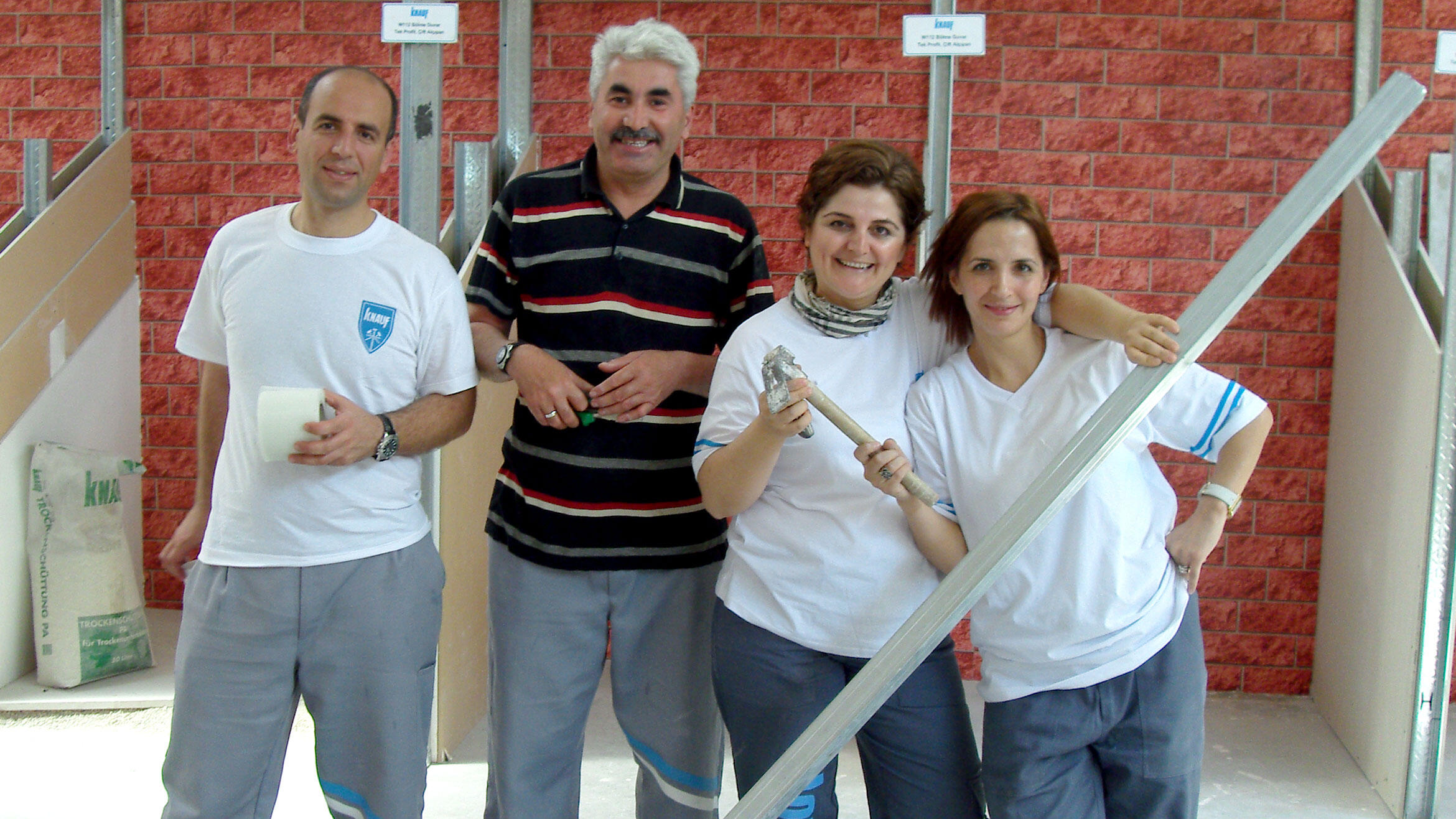 The German company Knauf has its origins in the traditional plaster industry. Today, it produces construction materials for drywall construction, plasterboard, mineral fibre acoustic board, gypsum fibre board, dry mortar with gypsum for internal rendering and cement-based external plaster as well as insulating materials on the basis of glass wool and mineral wool. Knauf identifies close customer relations honed through first class advice and appropriate expert service as one of its most important success factors. The high quality of the company's products is not only due to modern technical facilities but also due to its well-trained employees.
The firm's first international investments – in the Austrian market – date back as far as the 1970s. Today, Knauf is active on all five continents. The enterprise employs 26,000 members of staff in more than 200 factories and maintains representations in more than 40 countries. For further developing its business relations in the Arab countries, Knauf has already used iMOVE's Arab-German Education Forum in the past. In 2012, the company's total turnover amounted to about six billion Euro.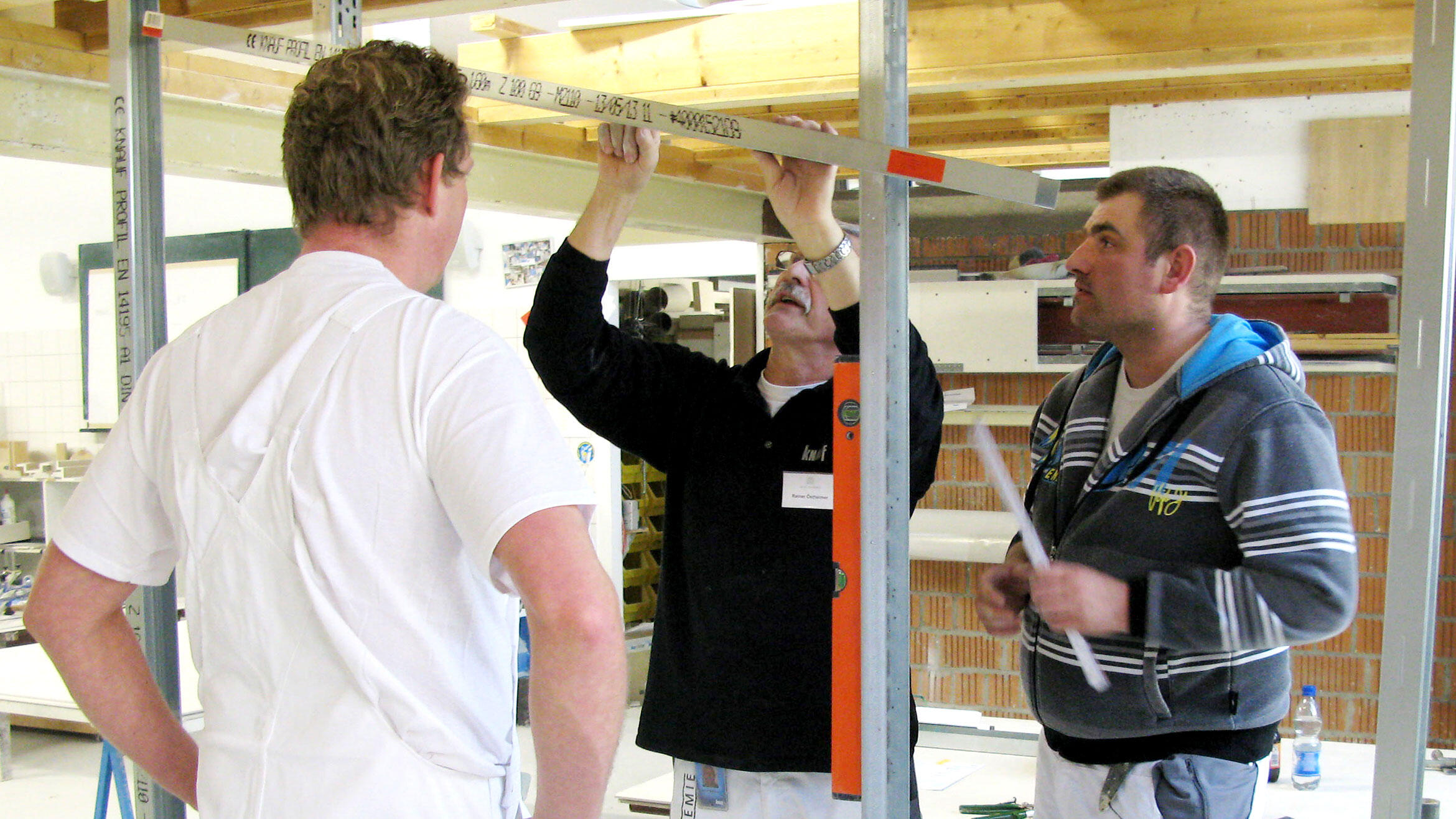 Knauf's activities in the Turkish market have been developing since 1997, up until 2005 in co-operation with a Turkish partner. Today, Knauf maintains three training centres in Istanbul, Ankara and Izmir. In these centres, a total of up to 2,500 course participants are being trained each year.
The content of these training courses ranges from information regarding basic systems such as simple stud walls and suspended ceilings to special systems that need to satisfy very specific demands. These include wall and ceiling systems that cannot be penetrated by X-rays or bullets from firearms as well as highly efficient interior and exterior wall insulation systems, acoustic ceilings and modern systems for interior and exterior rendering.
Knauf furnishes the centres and trains the trainers who act on behalf of Knauf. The special twist here is that Knauf uses the training centres as marketing and market development tools. Satisfied customers, who were instructed as to how to handle a product and thus are rendered capable of achieving the desired results, are very much inclined to continue using the products from the same manufacturer also in the future. Therefore, all courses at the training centres are free of charge for the participants and no initial qualifications are required.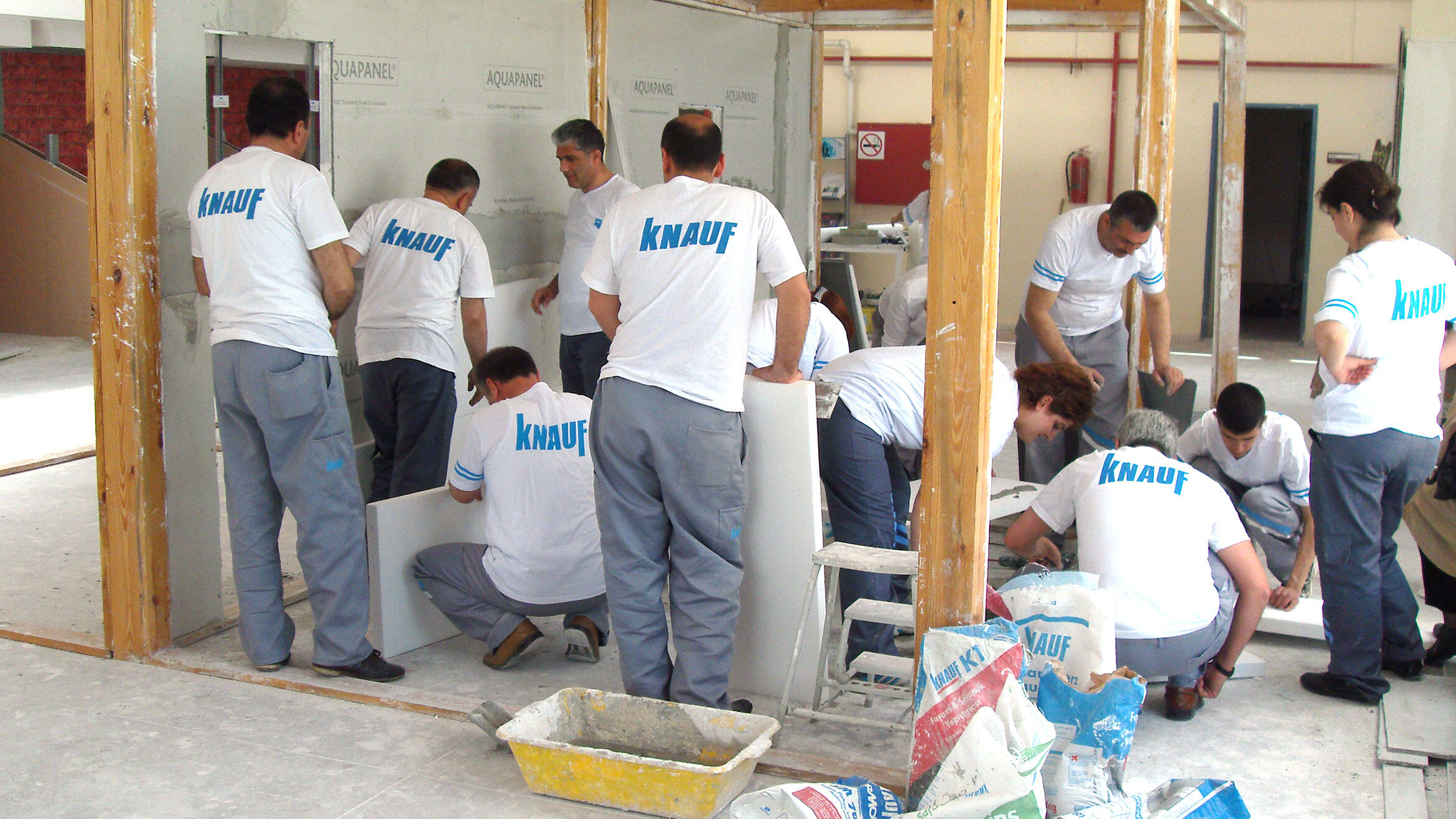 The training courses are characterised by the prevalence of practical training units, which constitute up to 70 per cent of the complete duration of the training course. This marked focus on practical application is the decisive element in enabling the participants to master the challenges imposed on them by their professional daily routine.
The participants come from all fields of application within the industry. They include vocational college students and students of construction engineering and architecture as well as experienced professionals such as skilled tradesmen in the building industry, architects and construction engineers. The training courses range in duration from one day to two weeks. Upon completion, the course participants are issued a certificate of attendance and, in the event of an examination, also a so-called "Knauf Pass", which enjoys a significant reputation in the industry due to the prominence of this global brand, which in turn rests on the quality of its products.
In mid-2013, Knauf entered into an agreement with the Turkish education ministry's department that is responsible for lifelong learning. On the basis of this agreement, Knauf provides training also for job seekers and issues certificates that are recognised by the ministry.
---
Information
This sucess story was first published in the iMOVE publication Developing Skills for Employability with German Partners • 8 Success Stories from Turkey. The brochure was published in March 2014.
---