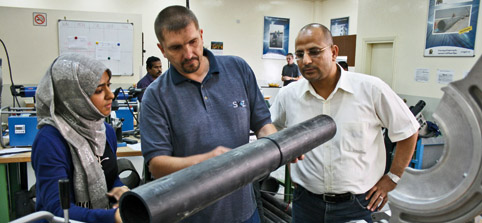 iMOVE interview with Stefan Fleischmann, Project Management Further Education of the SKZ (German Plastics Center), August, 2011.

iMOVE: What is the name and background of your organisation?

Stefan Fleischmann: The German Plastics Center SKZ has been providing services to the plastics industry for half a century. The work the SKZ carries out is based on several pillars. It conducts tests to ensure the quality of products, procedures, processing techniques and tools. Extensive research brings about improvement in products and production technologies and enables development to take place in accordance with the needs of the market. Certification of management systems constitutes an important instrument for increasing performance and for achieving greater corporate success.

iMOVE: Which services in the field of vocational education and training do you offer?

Fleischmann: The SKZ is the market leader in continuing training and knowledge transfer in the plastics sector and trains more than 10,000 participants in the courses and seminars it holds each year.

iMOVE: What are your international business experiences?

Fleischmann: The SKZ has been supporting German companies abroad since the 1970s. Such companies are reliant on well trained locally based skilled workers. The SKZ provides staff training to enable full advantage to be taken of the benefits which plastics offer whilst placing a particular emphasis on compliance with safety standards. It has been delivering training services at a local level in several countries since the 1990s.

iMOVE: Which key service do you have on offer for a successful cooperation with international partners?

Fleischmann: Operations in Dubai began in 2008, since which time around 250 skilled workers have undergone training. The certificates issued by the SKZ in Dubai are held in high esteem by dint of the fact that they comply with German quality standards.

The training programme comprises certified courses for the welding of plastic gas and water supply pipes and for the manufacture of plastic liner sheets. These sealing materials were originally developed for waste disposal sites and are used in Dubai for such purposes as the securing of water features in hotel facilities, where they prevent drainage and seepage into the ground of such a precious resource.

The high degree of demand means that one member of the SKZ's staff has been permanently deployed locally to take care of the organisation of training units. The success which the SKZ has achieved in Dubai thus far establishes the ideal foundations for an expansion of activities in the Arab region. Plans are in place to establish a dedicated SKZ Academy in Abu Dhabi in order to be able to offer even better training to skilled workers in the United Arab Emirates and its neighbouring states.
Contact
SKZ
Frankfurter Strasse 15 - 17
97082 Wuerzburg
Germany 

Phone: +49 931 4104-209

Contact person:
Stefan Fleischmann, Project Manager Further Education of the SKZ
© photos: German Plastics Center SKZ