VET on the move: Climate-friendly technologies and renewables
On 28 April 2022, four German training providers presented their training offers on "Climate-friendly technologies and renewables". 40 participants took part in the online event which was aiming at an audience from all over South and South East Asia. Follow the training offers of the German training providers in the video at the bottom of the page.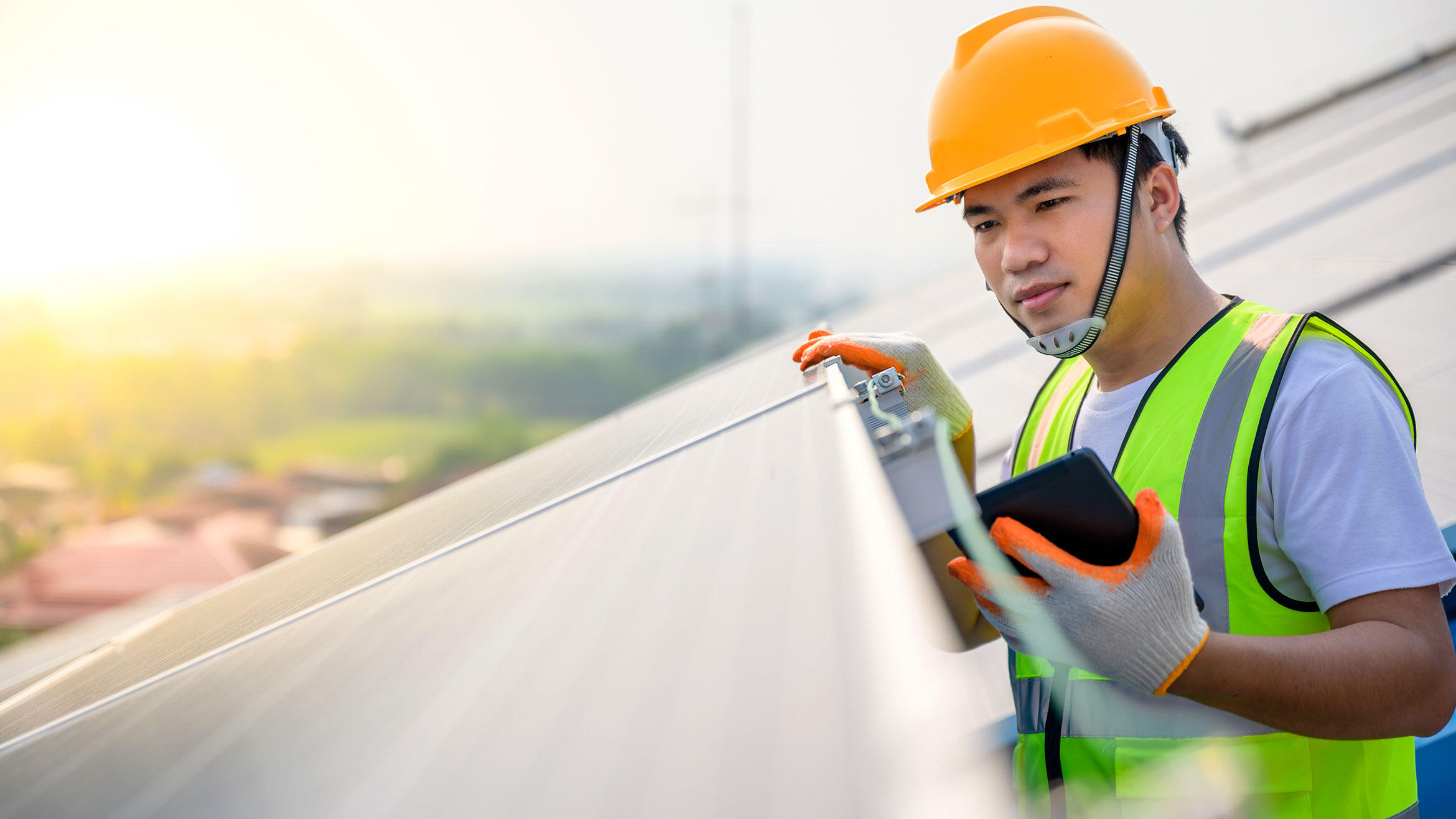 The online event was the fifth part of the iMOVE series "VET on the move".
The demand and markets for climate-friendly technologies and renewables grow rapidly worldwide in the course of the dynamic climate change. Lately, considerations of many states in the context of national security policy and the intensified pursuit of national energy autonomy also contribute to this development. Much in demand are for example more energy-efficient production processes and the implementation of renewable energy sources.
In order to design the necessary technological changes, the acquisition of new knowledge and skills is required. Training material and training services with regard to climate protection therefore also see a growing demand internationally. In the future, the world of work will have to concentrate more on sustainable action and vocational education and training will have to ensure that all employees can acquire future-oriented competencies.
With this online event iMOVE facilitated new business opportunities for German training providers, who are especially interested in Asian markets. Four organizations showcased their training offers for qualifying training participants in the field of sustainable technologies and energies:
LD Didactic
LD Didactic supplies training solutions for science and technology since 1850. The latest developments are training systems in the field of renewable energies and sustainability: solar, wind and hydroelectric power plants, smart grid solutions for energy management and the topic of E-mobility.
The offers presented during the event cover the entire spectrum of basic functionalities of sustainable energy solutions up to topics such as the infrastructure of charging stations for E-mobility.
TVET Hamburg
TVET Hamburg is a consortium of Hamburg Institute for Vocational Education and Training, Hamburg Chamber of Commerce and GFA Consulting Group.
In 2021 TVET Hamburg has successfully conducted two rounds of a six-week e-learning programme on the topic of sustainability, renewable energies and energy efficiency – the Green TVET School. The training targets vocational training institutions and policy makers in vocational education worldwide.
The training consists of expert discussions and digital visits to vocational schools, companies and chambers as well as teacher training and further education institutions. Self-study and group work on various cross-cutting issues such as digitalisation or quality management and the development of a roadmap complete the extra-occupationial programme (24 hours). Already standardised modules may be flexibly combined with demand-oriented thematic modules such as e-mobility.
Video: Dual TVET in Hamburg - insights of the players
Dr.-Ing. Paul Christiani GmbH & Co. KG
With the increasing number of renewable energy technologies, such as photovoltaics, pellet heating systems or geothermal energy, the demands on technical personnel continue to rise. Specially trained personnel is urgently needed to plan, install, commission and maintain such systems.
Christiani aims at developing practical and versatile training systems for professions in the field of renewable energies, which can be used in initial and further training. With the help of learning cases and training stands, trainees, pupils, students and specialists learn about the various aspects of energy technology, from basic knowledge to specialist knowledge for professionals.
Bau Bildung International
The construction industry has to meet increasingly complex requirements. Energy-efficiency, technical innovations, sustainability and interdisciplinary working processes are ongoing trends in this industry. Bau Bildung is one of the leading training providers in Germany.
International training projects have been successfully conducted particularly in the fields of energy-efficiency, green building, water and waste water management, air and water filtration as well as building automation.
Pitches and Questions
The panelists presented their training offers as pitches of about 10-minute length and answered questions immediately after their presentations.
iMOVE organised, realised and moderated the 90-minute event which was conducted in English and was broadcast via GoToWebinar.
Video of VET on the move
Follow the event including the training offers on "Climate-friendly technologies and renewables" of the four German training providers.
Information on the German training providers