German partners urgently needed
iMOVE and the African Association organised the 1st German-African Forum on Vocational Training and Education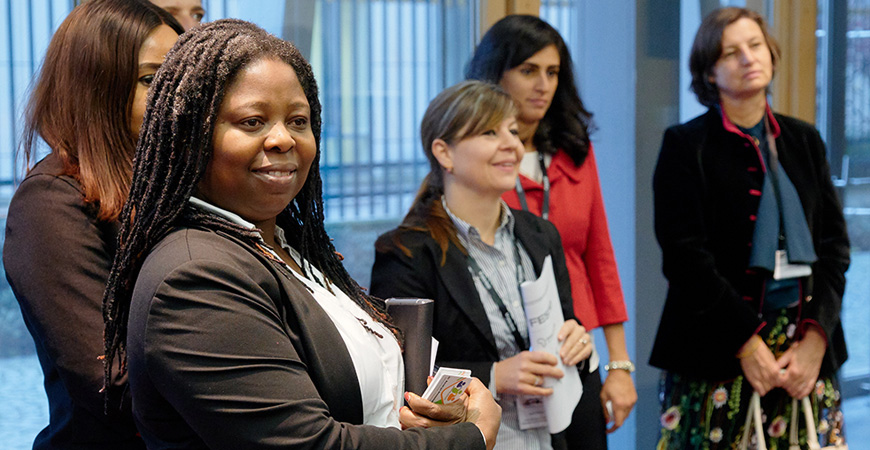 With around 200 attendees, including a minister of state and as many as nine ministers of education of African nations, the first German-African Forum on Vocational Training and Education was a highlight of this year's iMOVE activities.

Together with the German-African Business Association, iMOVE organised the conference for experts in the field which was conducted in English and French and took place on 20 November 2019 at the premises of the Representation of the State of North Rhine-Westphalia in Berlin. The German government was represented by Professor Wolf-Dieter Lukas, Secretary of State at the Federal Ministry of Education and Research (BMBF) and by Dr. Maria Flachsbarth, Parliamentary State Secretary at the Federal Ministry for Economic Cooperation and Development (BMZ).

The qualitative advantages of practice-orientated vocational training provision, the added value from education and training for social and economic development, the role of women in education and training and, last but not least, projects and initiatives which support successful vocational education and training (VET) cooperation formed the focus of the event with the motto of "Shaping the Future of Employment".

The forum followed on closely from the "G20 Compact with Africa Investment Summit" which took place for the second time under the patronage of the Federal Chancellery.

While African countries may differ in terms of their economic capability and development, they face similar challenges in the training sector. Vocational education and training in Africa suffers from a poor image within society and from chronic underfunding. Private sector involvement in the organisation of training is very limited and the content often does not reflect the needs of companies.

The comprehensive and systematic initial and ongoing development of skilled workers is regarded, however, as a crucial basis for continued economic development. Many African governments have therefore adopted a course of reform and are focusing in particular on the German dual model of vocational education and training, seen around the world as a pioneering model.

The Federal Government with their strategy "International VET cooperation from a single source" [Internationale Berufsbildungszusammenarbeit aus einer Hand] and the German education sector are supporting this development on the African continent with numerous activities, initiatives and projects.

In light of this, the event featured panel discussions involving high-ranking individuals, such as African ministers and representatives from policy making, educational institutions and training companies in Africa and Germany.

The ministers from Egypt, Democratic Republic of the Congo, Ghana, Morocco, Niger, Senegal, South Sudan, Togo, Chad and Uganda discussed their government's reform efforts to date and national development plans for establishing and expanding vocational qualifications. This included the development and introduction of standardized curriculum and the opening of pilot schools, as well as improving both the image of vocational education and training and the involvement of businesses.

All African government representatives underlined their intention and desire to significantly intensify their cooperation with Germany in the education and training sector.

Training experts from business presented successful examples of German–African cooperation in a range of industrial sectors. It became apparent that numerous joint projects were already in existence—and in some cases had been for a number of years—and that future measures could be developed based on experience from these projects.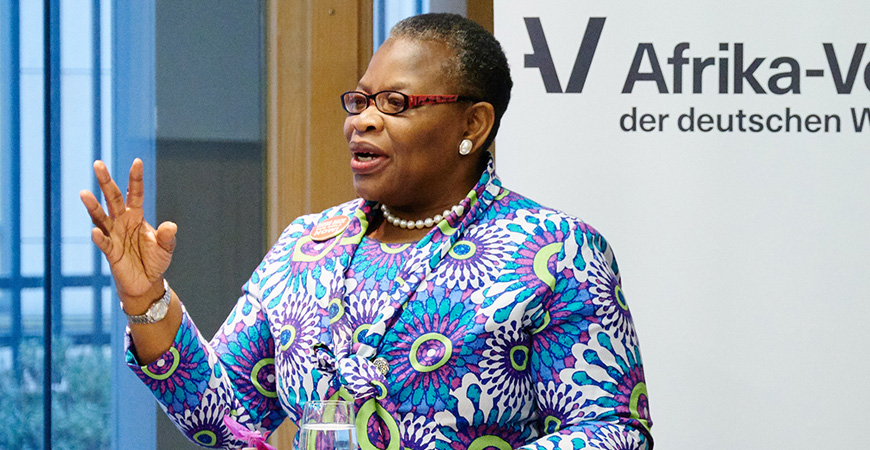 Women in Education – Breakfast Series
The event began with a morning meeting for female training experts only.

In her opening address, the former Nigerian Minister of Education Obiageli Ezekwesili (pictured) argued the case for increasing education and training opportunities for Africans by means of structural changes and greater private sector involvement in vocational training.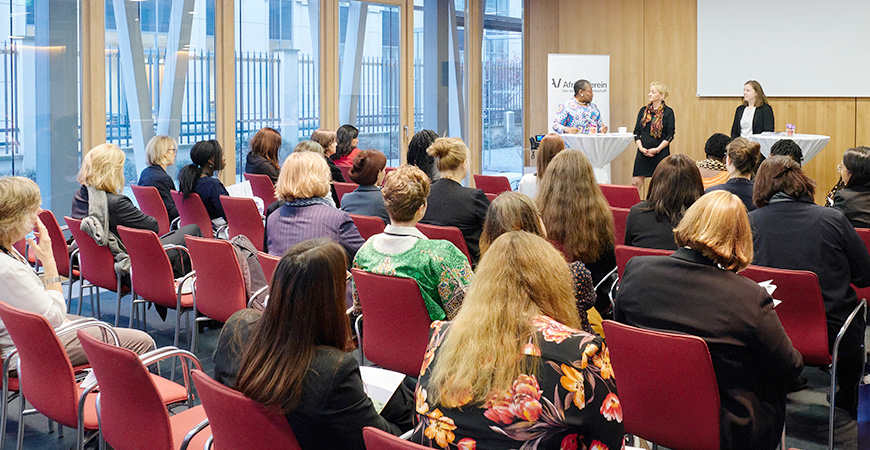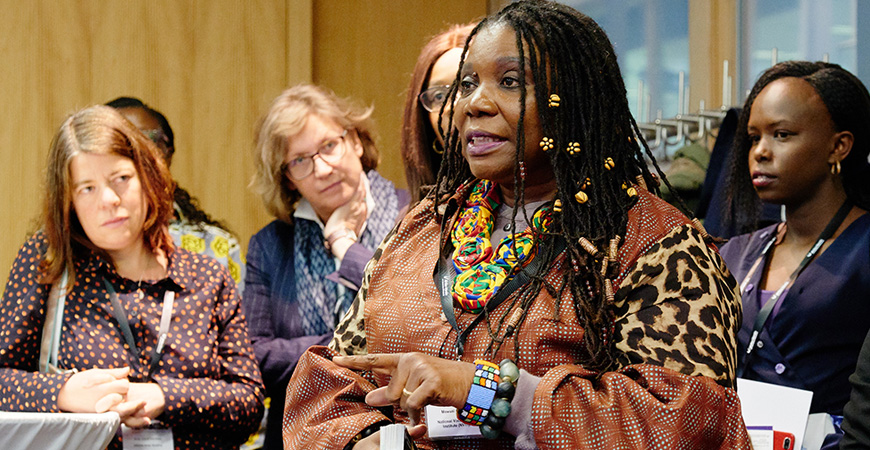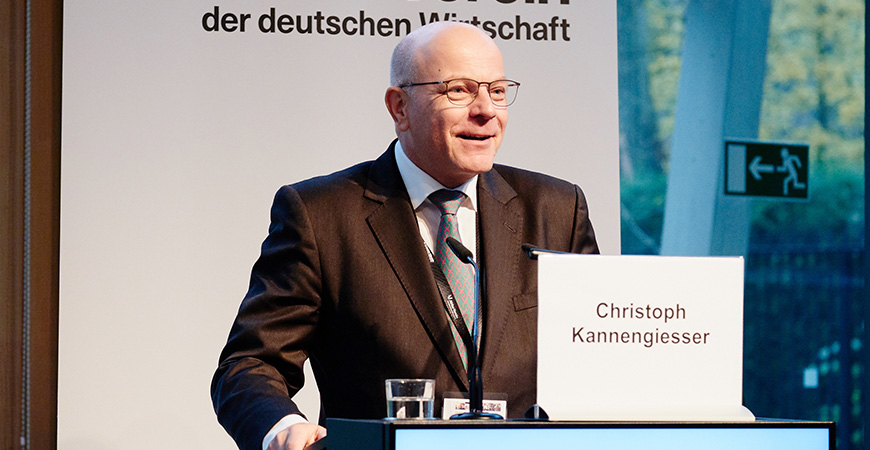 Welcome
In their welcoming speeches, the organisers emphasized their desire for greater cooperation with African partners in future.

Christoph Kannengießer, Chief Executive Officer of the German-African Business Association (Afrika-Verein), specified that a key objective of the conference was to define the support requirements of African partners with even greater precision.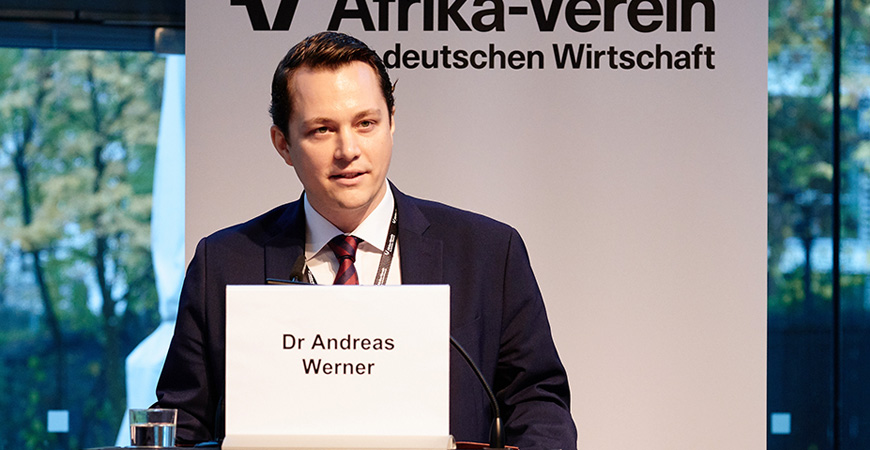 Dr. Andreas Werner, Head of iMOVE, emphasized the networking opportunities to be gained from face-to-face discussion.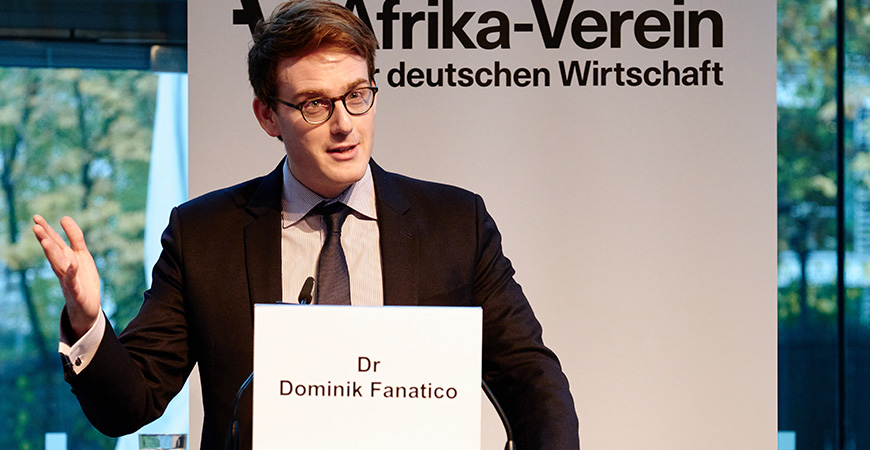 Dr. Dominik Fanatico, Deputy head of the Representation of the State of North Rhine-Westphalia in Berlin, referred to the meeting as an important opportunity for coming together and presented a video message from the Minister President for North Rhine-Westphalia Armin Laschet.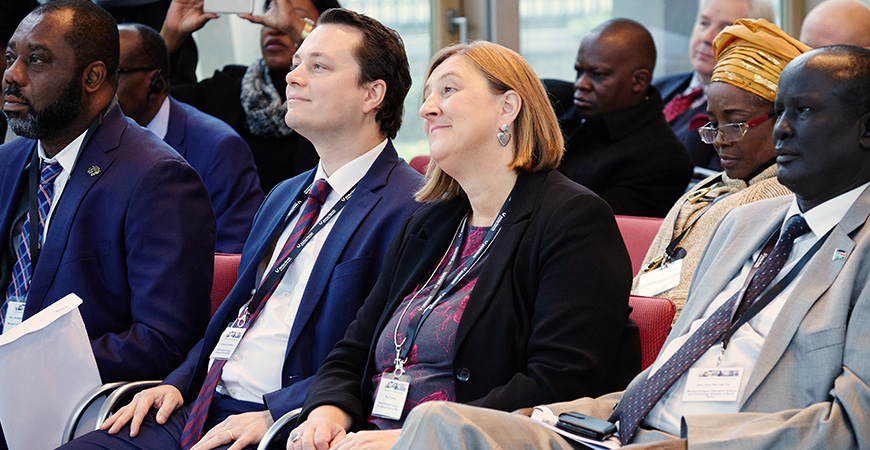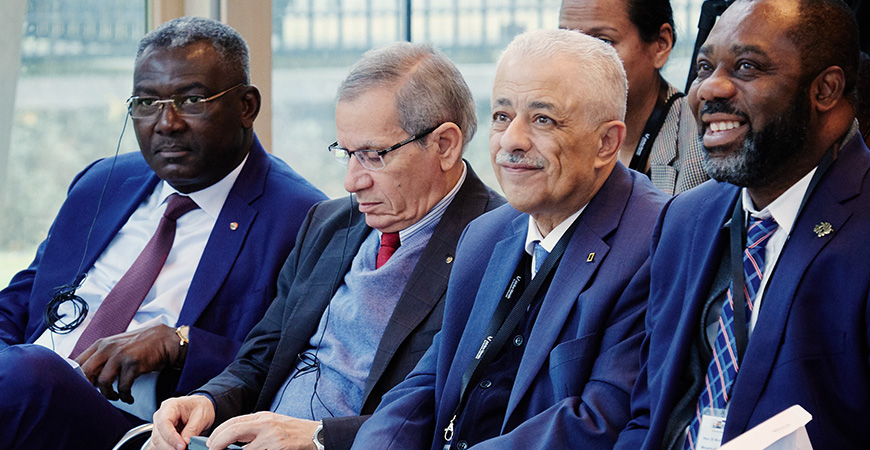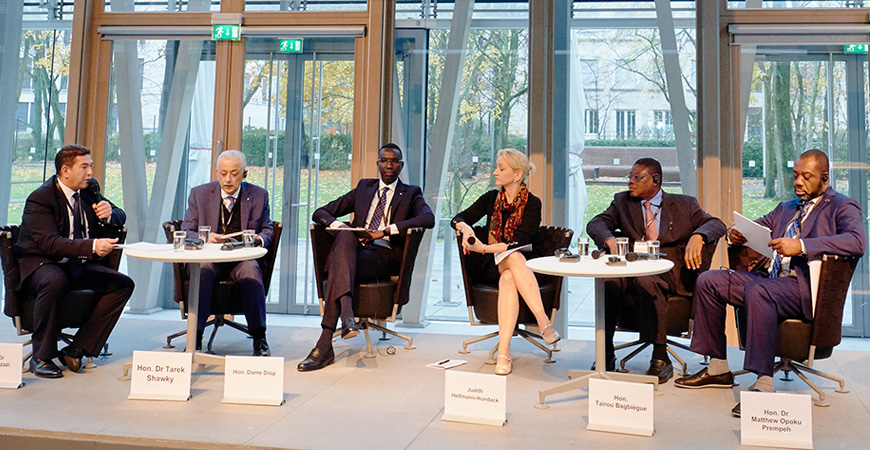 G20 Compact with Africa: expertise on vocational education and training (VET) and private sector cooperation
In the first panel discussion, five ministers of education from North and West Africa introduced their plans for modernizing their education systems. Their aims include pilot schools based on new educational concepts, certified training courses, adaptation to labour market requirements, the involvement of business in training activities and improving the image of vocational education and training in the minds of the wider public.

On the podium from left to right:

Honourable Dr. Said Amzazi, Kingdom of Morocco
Honourable Dr. Tarek Shawky, Egypt
Honourable Dame Diop, Senegal
Judith Helfmann-Hundack, Germany, Moderator
Honourable Tairou Bagbiègue, Togo
Honourable Dr. Matthew Opoku Prempeh, Ghana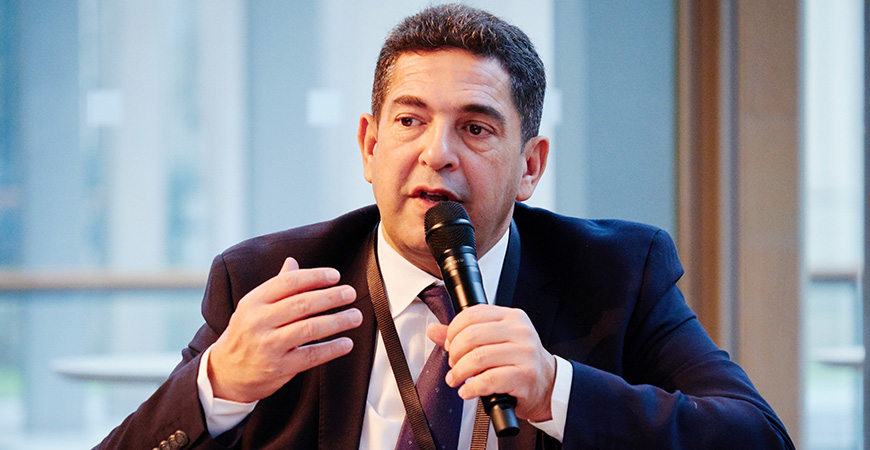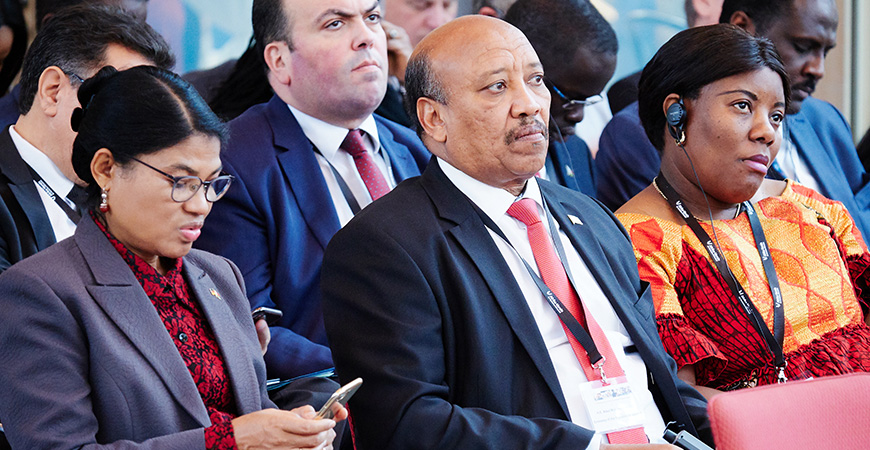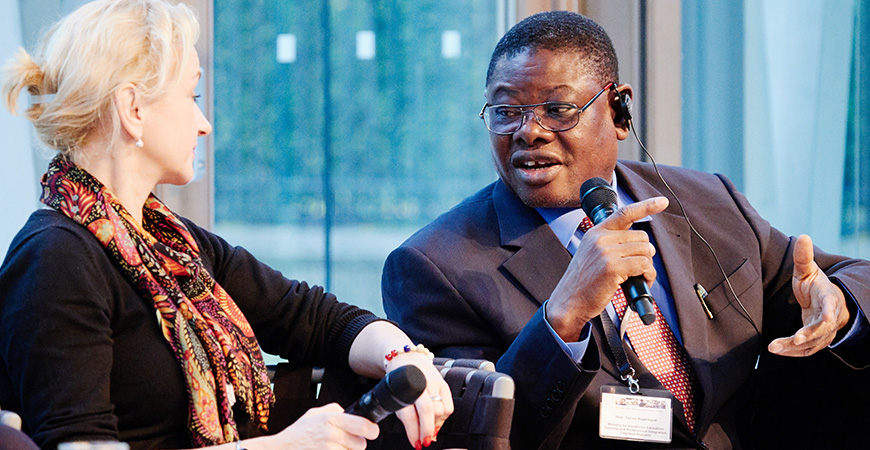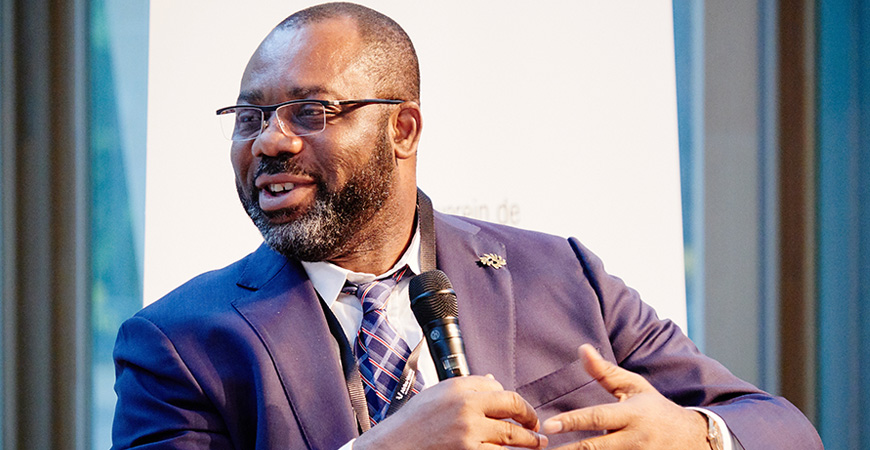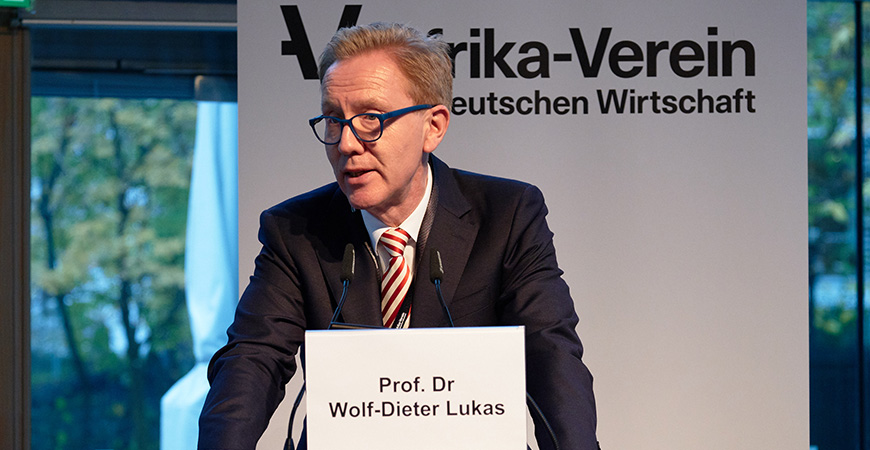 Towards quality, work-based training approaches
In his presentation, Professor Wolf-Dieter Lukas, State Secretary at the BMBF, described vocational education and training as the driving force for the future and the key to human development. He particularly recommended engaging in exchange with the German training providers present.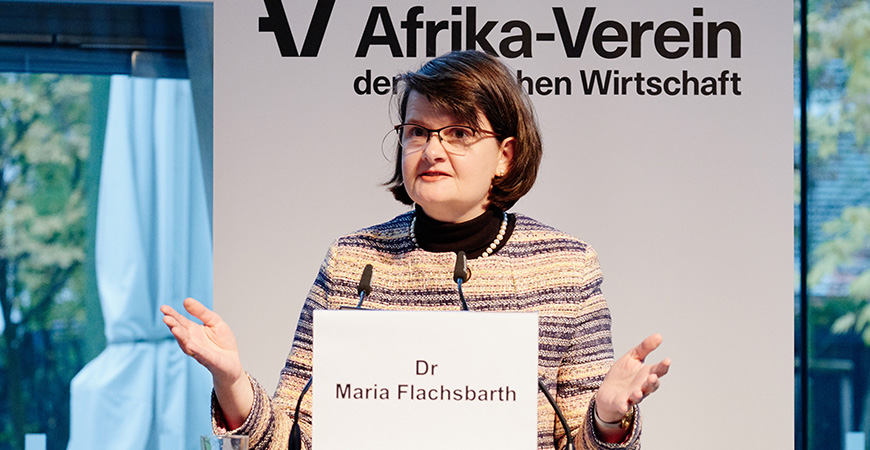 Dr. Maria Flachsbarth, Parliamentary State Secretary at the Federal Ministry for Economic Cooperation and Development (BMZ), made reference to global challenges such as climate change and to global opportunities such as new technologies which will also significantly shape vocational education and training in the future.

She referred to a teacher training programme in Ethiopia as just one example of the numerous BMZ training projects which receive annual support to the tune of 225 million euros.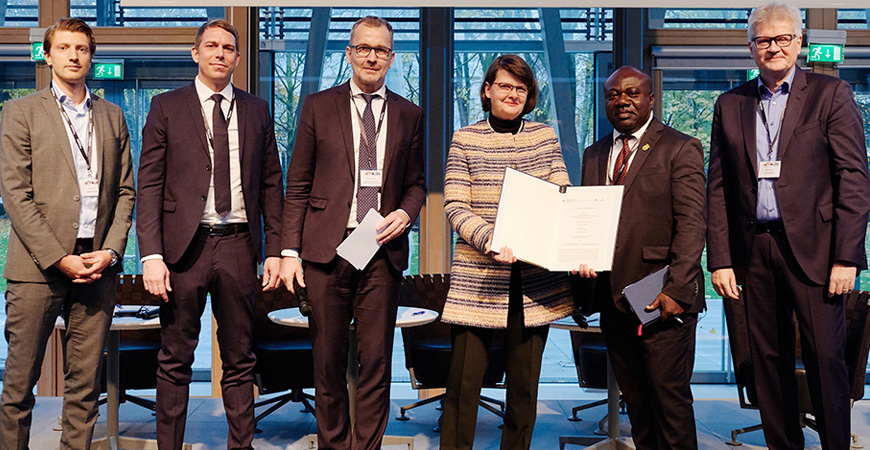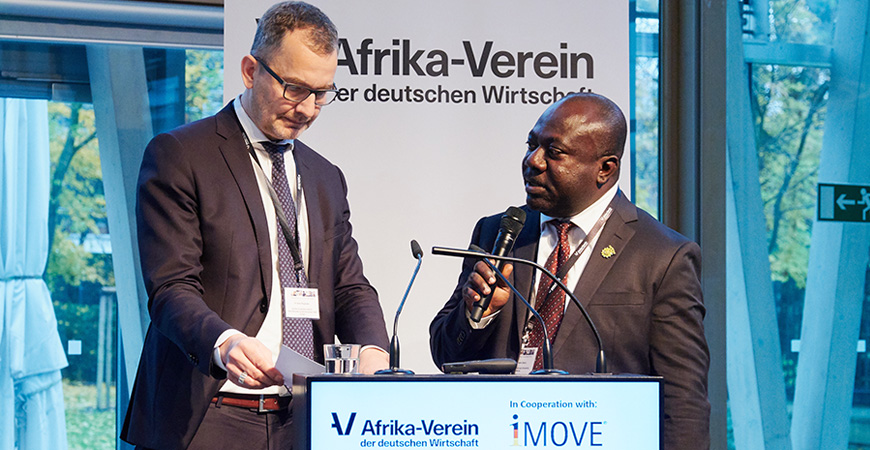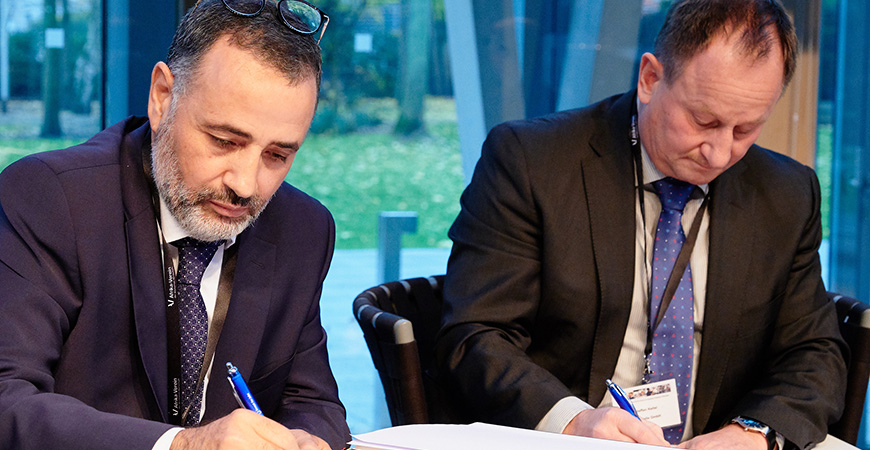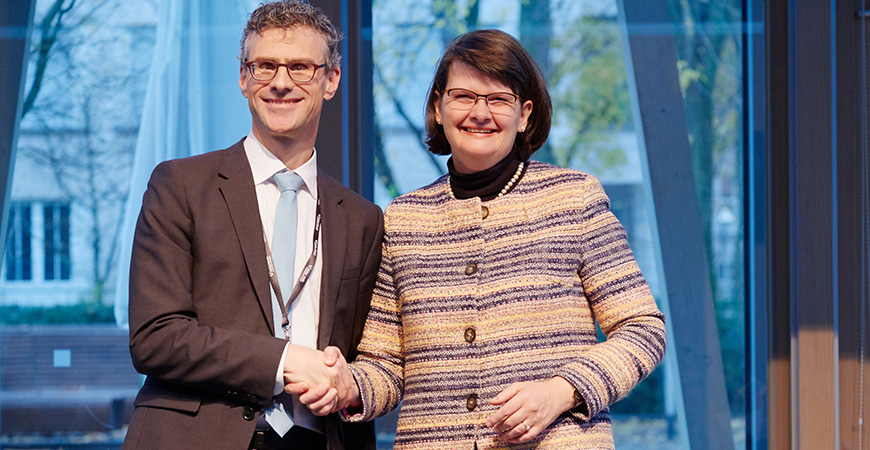 Special Initiative on Training and Job Creation – Presentation of Projects and MoU Signing Ceremony
Together with the partners involved, Dr. Maria Flachsbarth introduced new BMZ projects and signed two memoranda of understanding (MoU).

The aim of the initiative "Digital Skills Accelerator Africa" is to train software developers in Ghana and the "Welding Technology Industry Cluster" aims to create new structures for welding training in Morocco. The purpose of a new KfW funding instrument is to improve access to start-up capital for young entrepreneurs.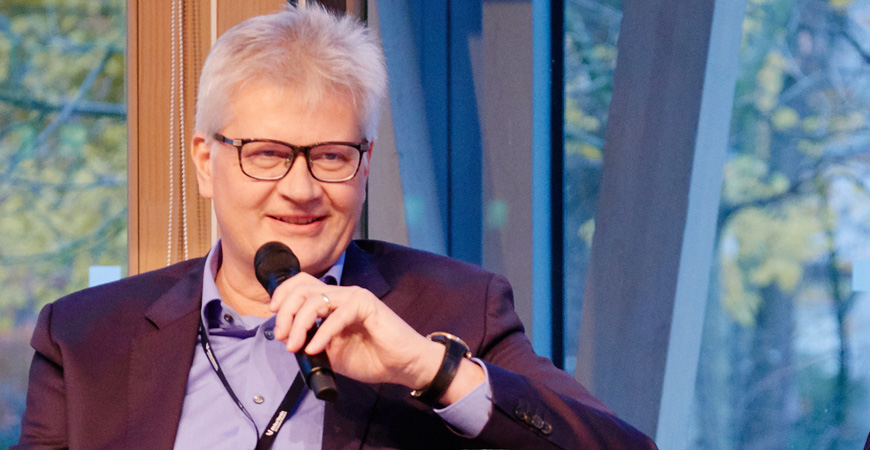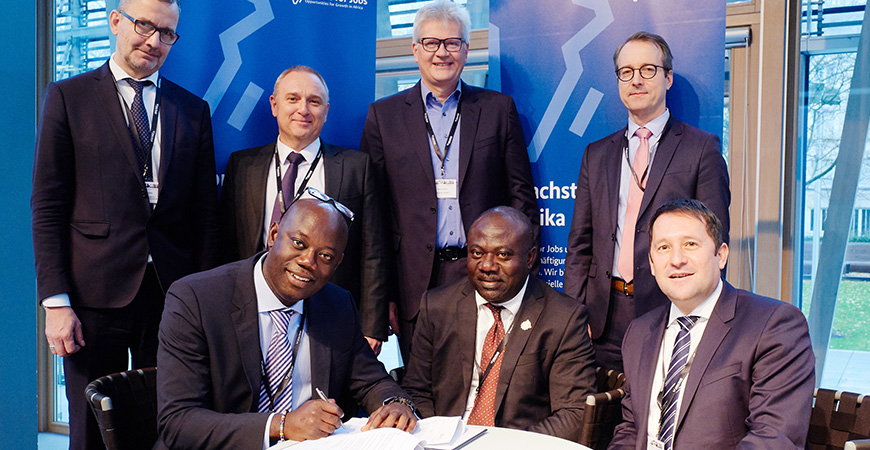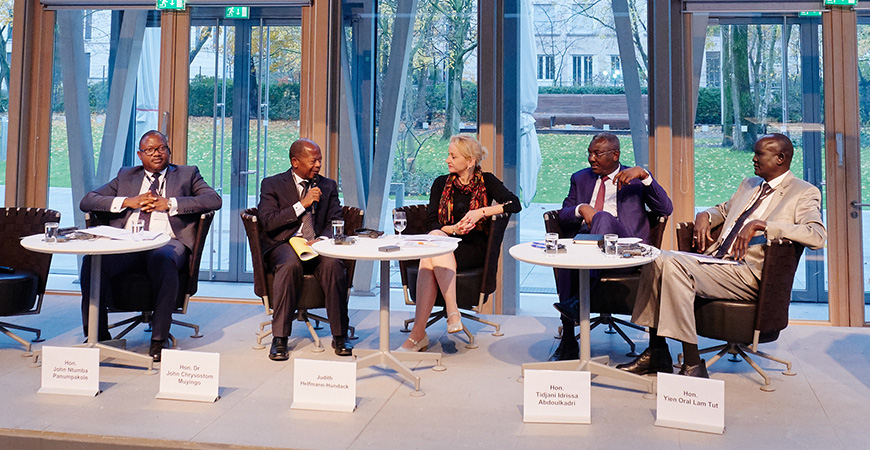 African Expertise on VET and private sector cooperation
Three African ministers for education and a minister of state outlined efforts being made to increase the number and quality of exchange programmes, and in the areas of education training investment, technical training courses and support for new companies.

On the podium from left to right:

Honourable John Ntumba Panumpakole, Democratic Republic of the Congo
Honourable Dr. John Chrysostom Muyingo, Uganda
Judith Helfmann-Hundack, Germany, Moderator
Honourable Tidjani Idrissa Abdoulkadri, Niger
Honourable Yien Oral Lam Tut, South Sudan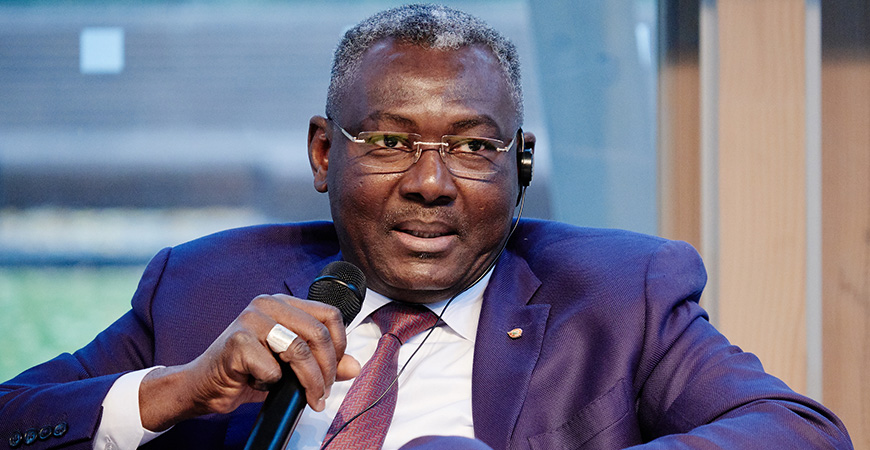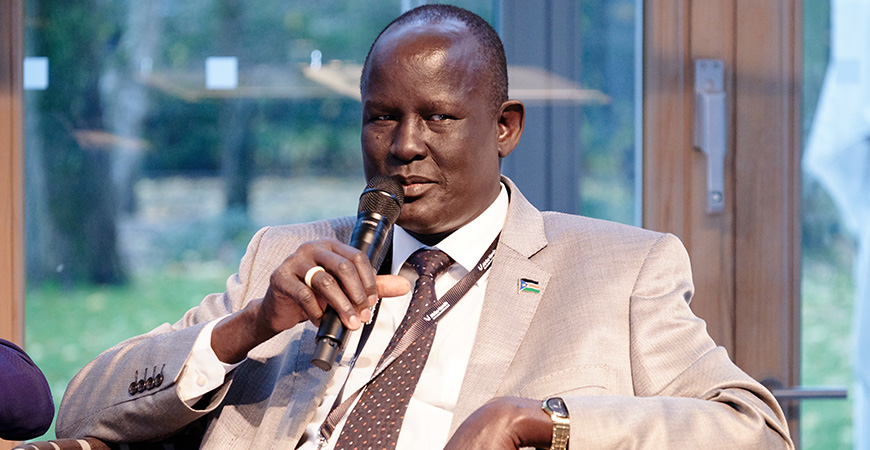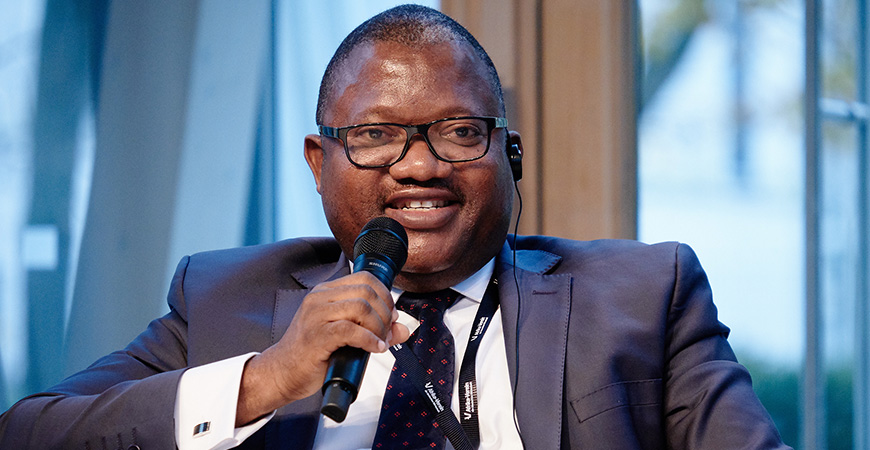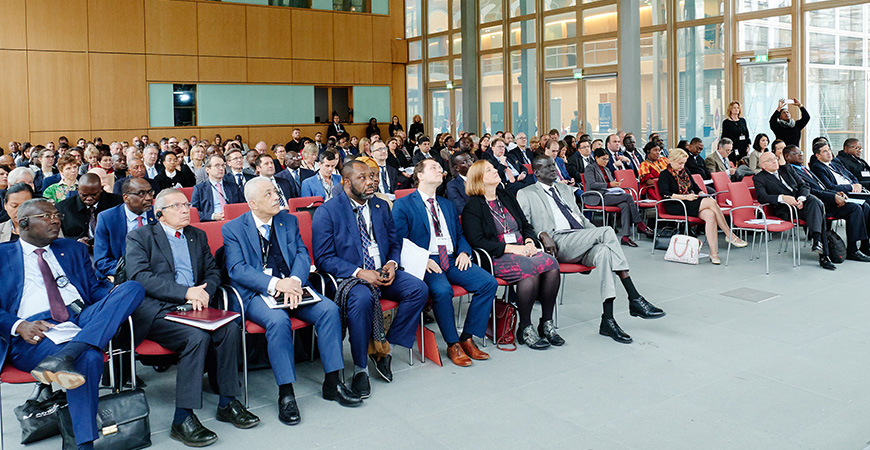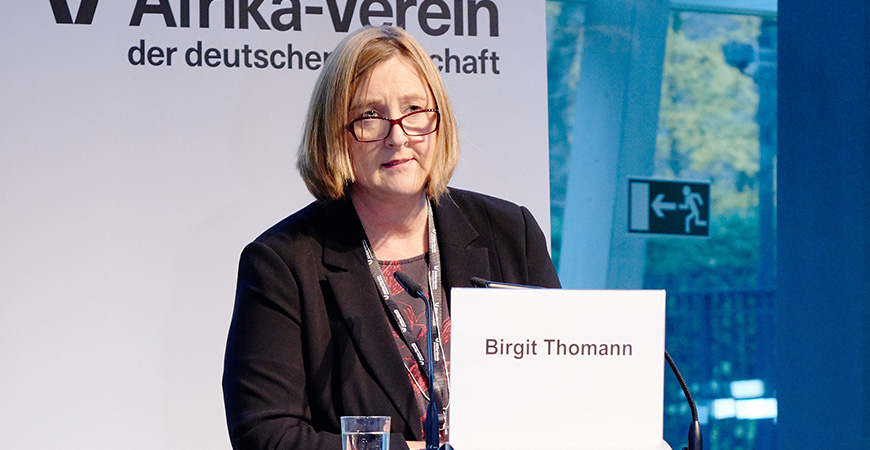 Impetus
Birgit Thomann, Head of the "VET International" Department at the Federal Institute for Vocational Education and Training (BIBB), focused on the connection between vocational education and training (VET) and employment. She emphasised that the quality of vocational education and training was linked directly to systematic cooperation with the private sector.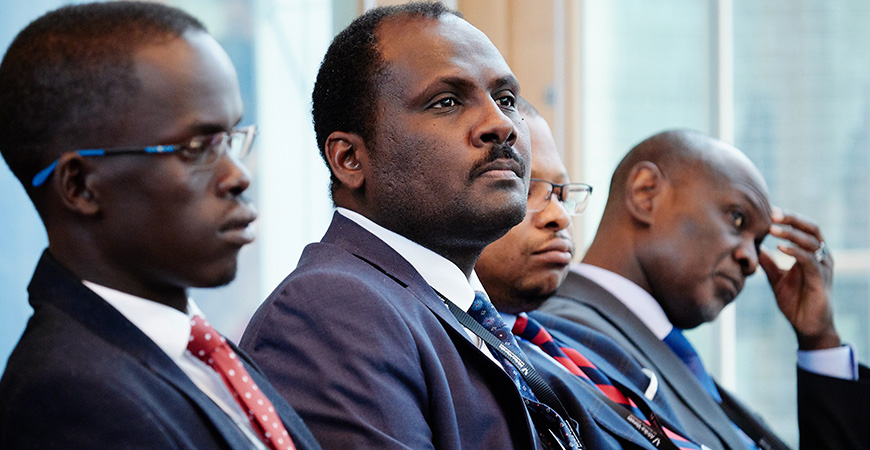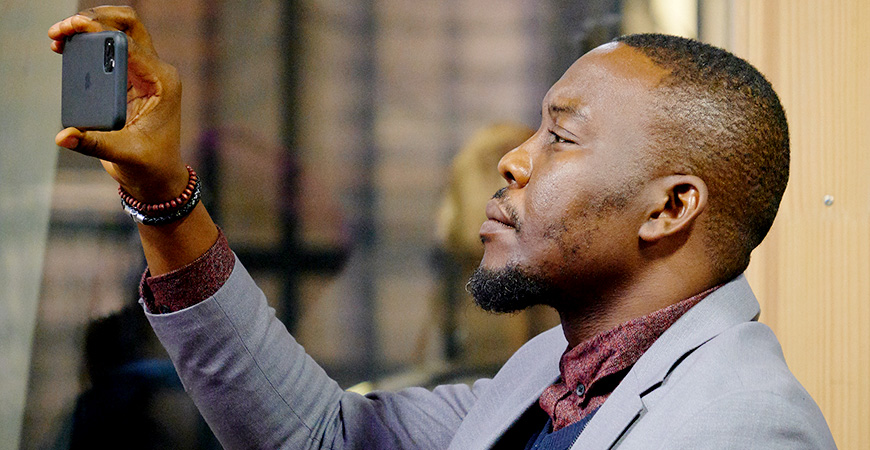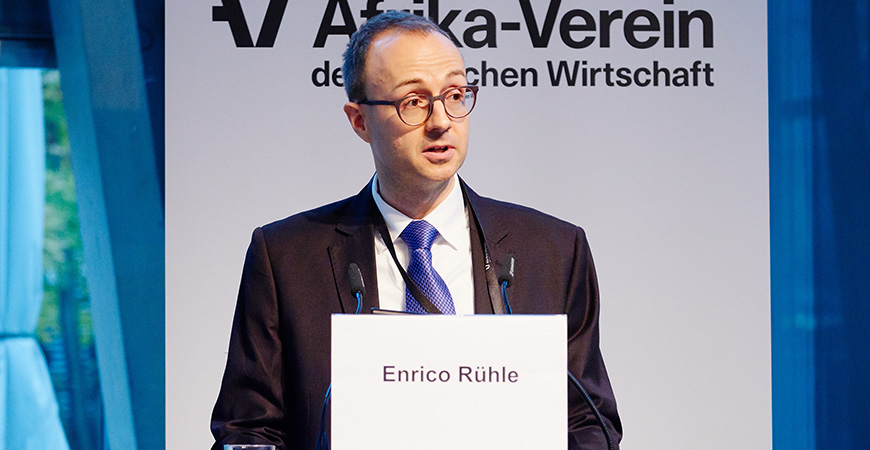 Enrico Rühle, Member of the Board of Festo Didactic, referred to numerous technical innovations which, as a result of digitalisation, are already significantly more widespread in Africa than, for example, in Europe. He made the case for supporting innovative developments through investment in training.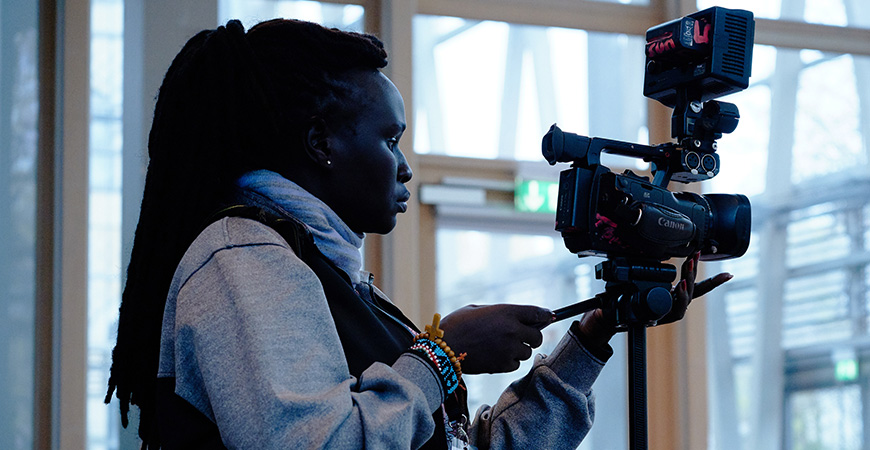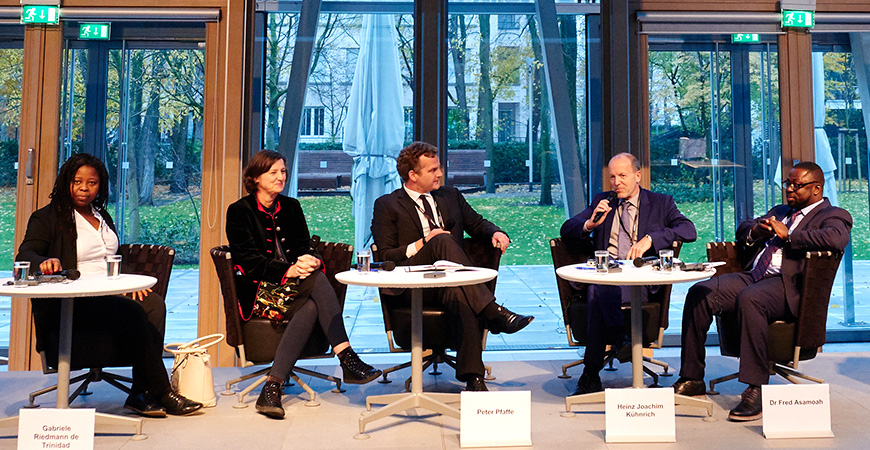 Good Practice I – Developing Skills for Employability
Three German training providers discussed their training provision and their experience in cooperating with African partners with the Ghanaian Council for Technical and Vocational Education and Training (COTVET). For them, the cooperation with local and regional government as well as taking careful account of conditions on the ground locally have both proven to be essential.

On the podium from left to right:

Dr. Rosalyn Dressmann, AfricanTide Union, Germany
Gabriele Riedmann de Trinidad, Platform3L

GmbH

, Germany
Peter Pfaffe, iMOVE, Moderator
Heinz Joachim Kühnrich, ITS International Training & Support, Germany
Dr. Fred Asamoah, Council for TVET (COTVET), Ghana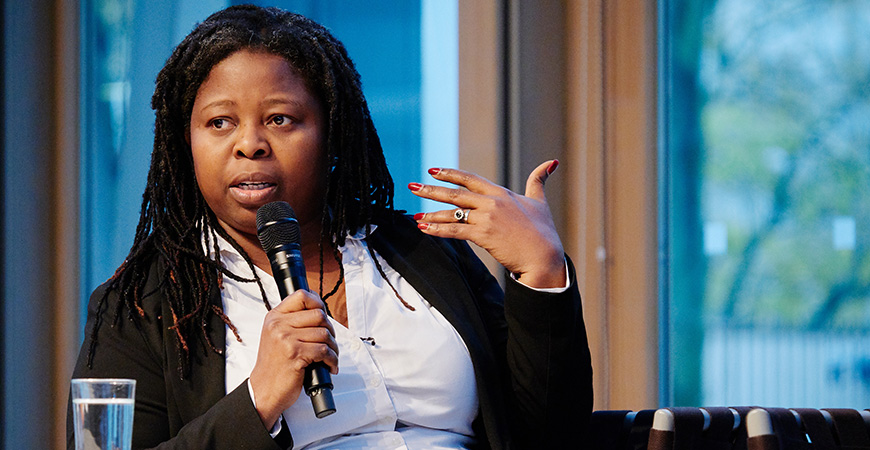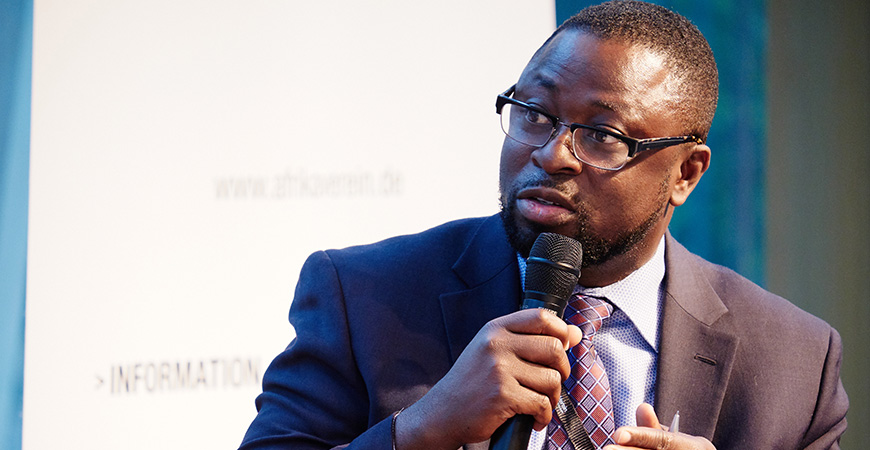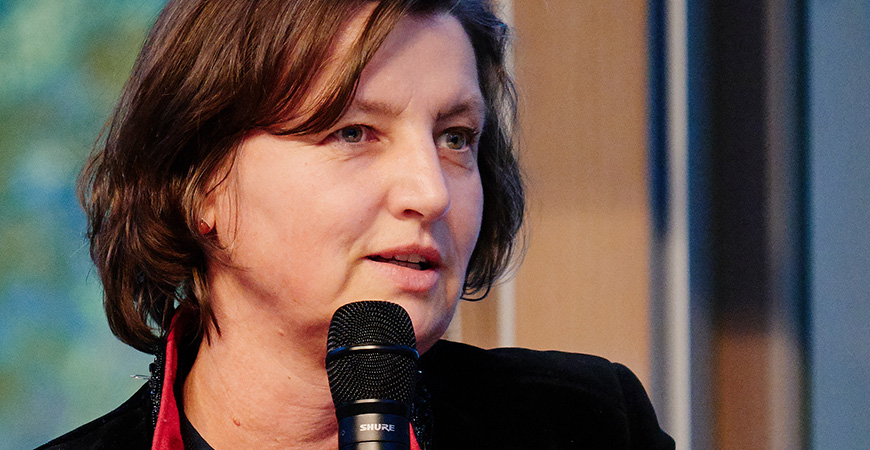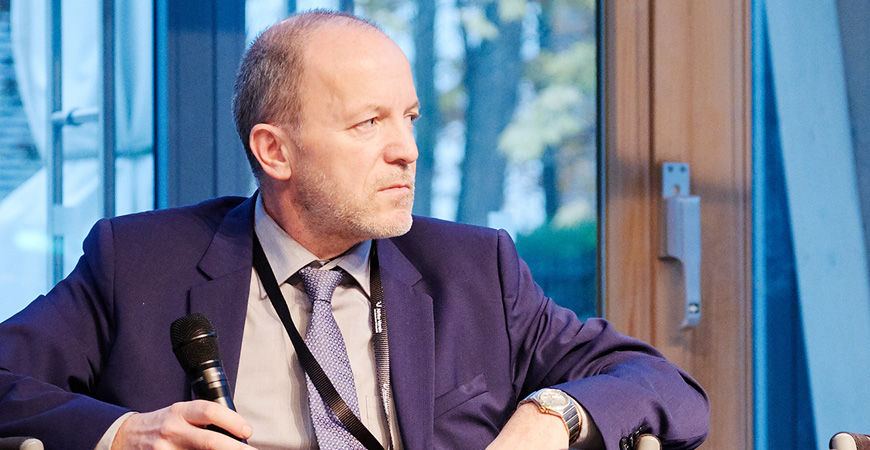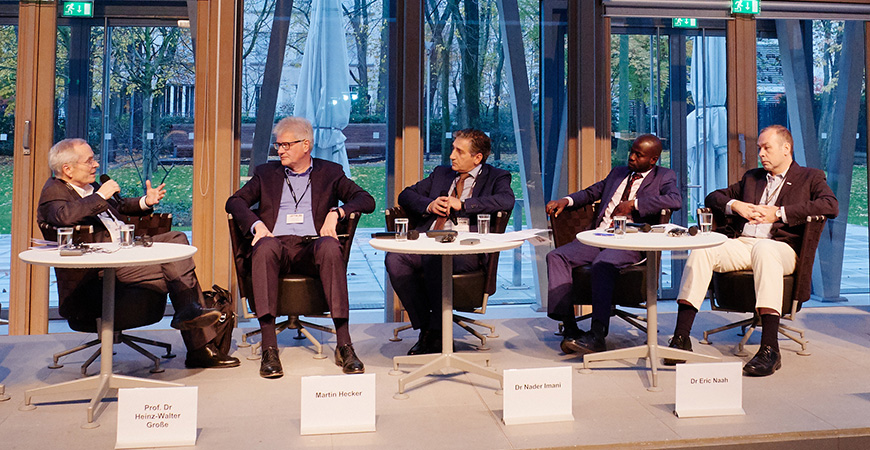 Good Practice II – VET Private Sector Engagement
Four representatives from German industrial companies with long-standing business interests in Africa presented their training activities. These were aimed at ensuring the quality of their products and services over the long term using young African skilled workers.

On the podium from left to right:

Professor Heinz-Walter Grosse, B. Braun Melsungen AG, Germany
Martin Hecker,

Amalitech gGmbH

, Germany
Dr. Nader Imani, Festo Didactic SE, Germany
Dr. Eric Naah, B. Braun Medical, Ghana
Dr. Markus Thill, Robert Bosch (Pty) Ltd, South Africa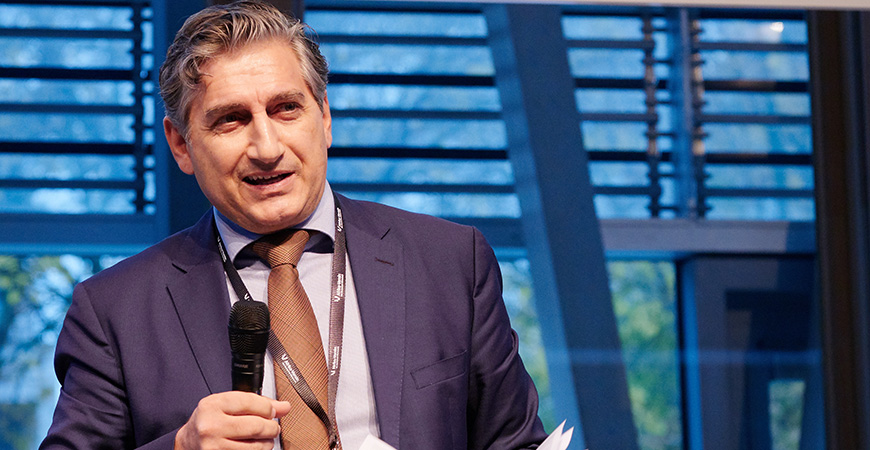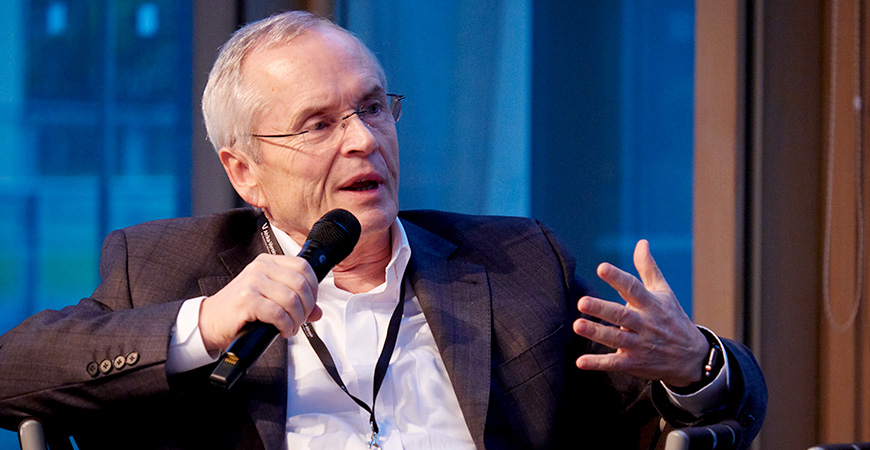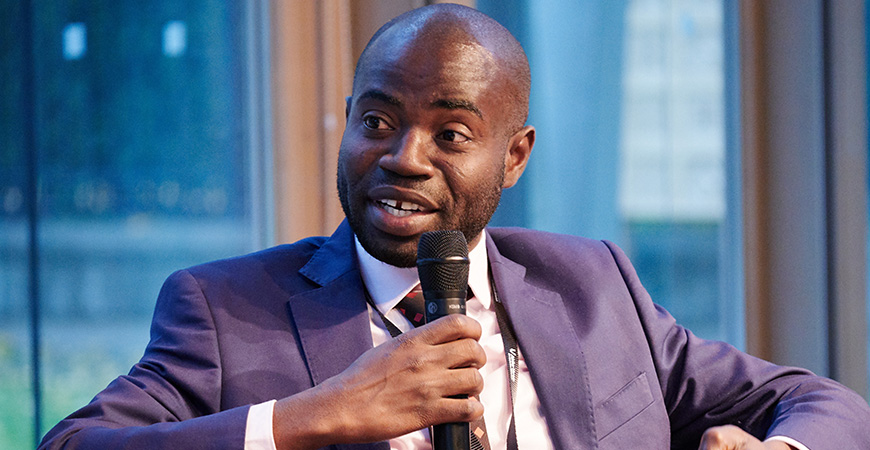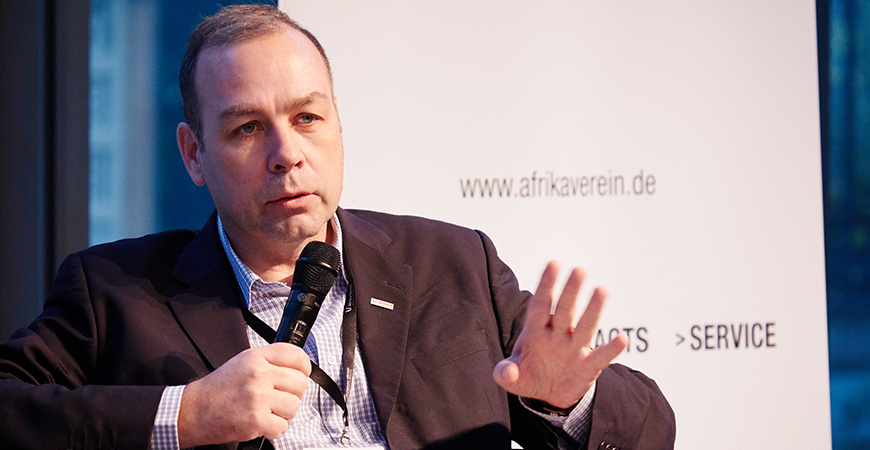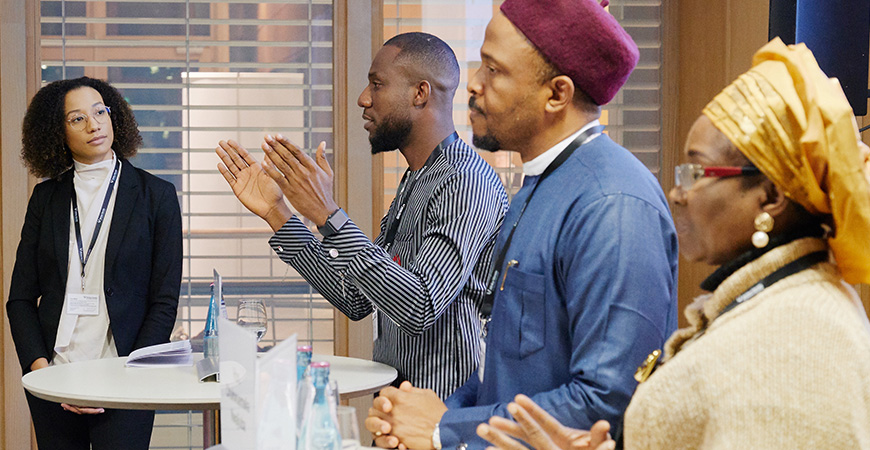 Parallel Working Sessions
Current initiatives and strategies along with innovative approaches to vocational education and training in Nigeria were discussed in three parallel workshops. The workshop "Nigeria: Innovative, VET approaches" is pictured.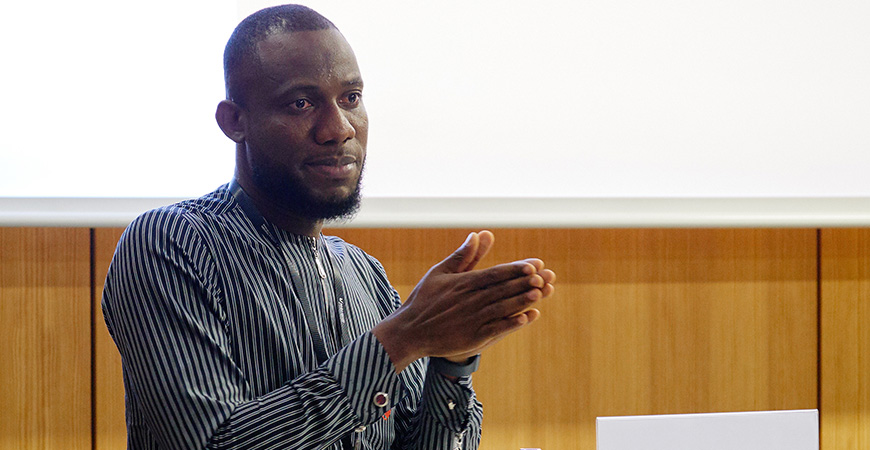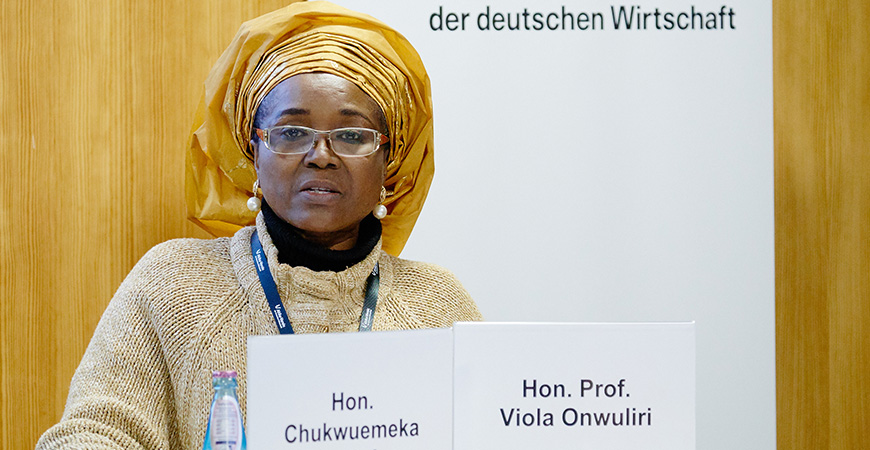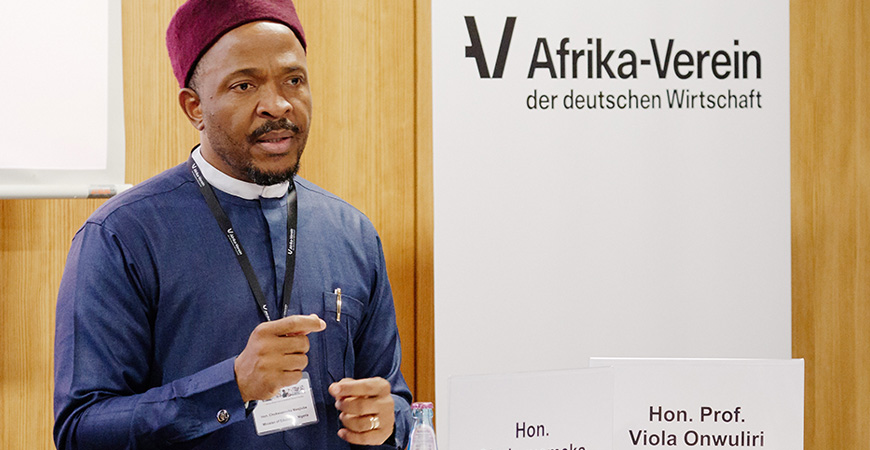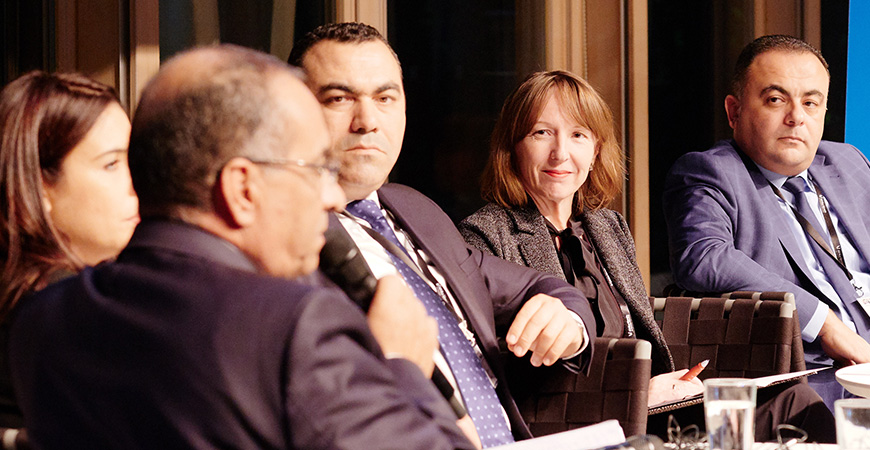 The workshop "Practice example: Tunisian Automotive Management Academy" is pictured.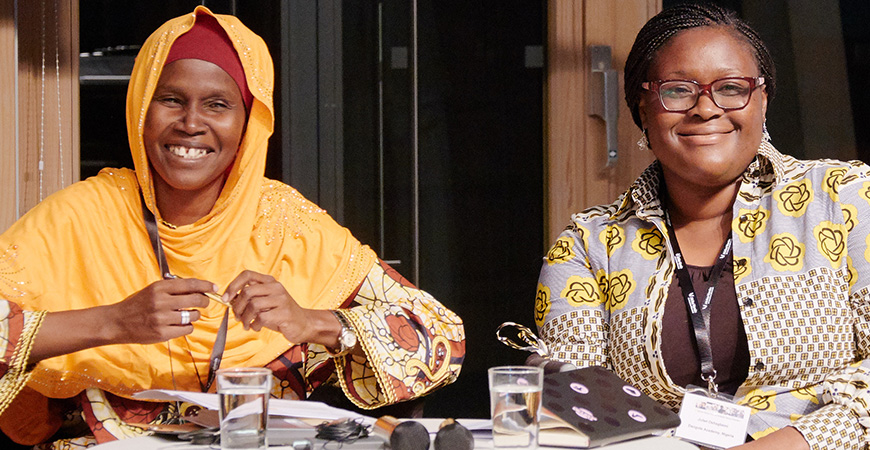 Good Practice III – VET Initiatives
The closing panel discussion focused on a German-Nigerian training partnership, the German Chamber organisation activities in Kenya and on modernization approaches for the vocational education and training system in Chad.

Pictured left: Honourable Chamsal-Houda Abakar Kadadé, Chad; right: Juliet Oshagbemi, Nigeria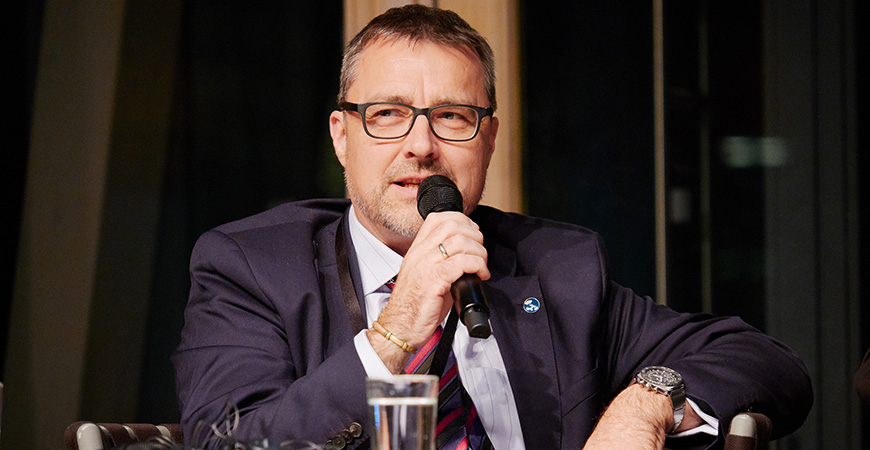 Dr. Norbert Völker, VDMA (Mechanical Engineering Industry Association), Germany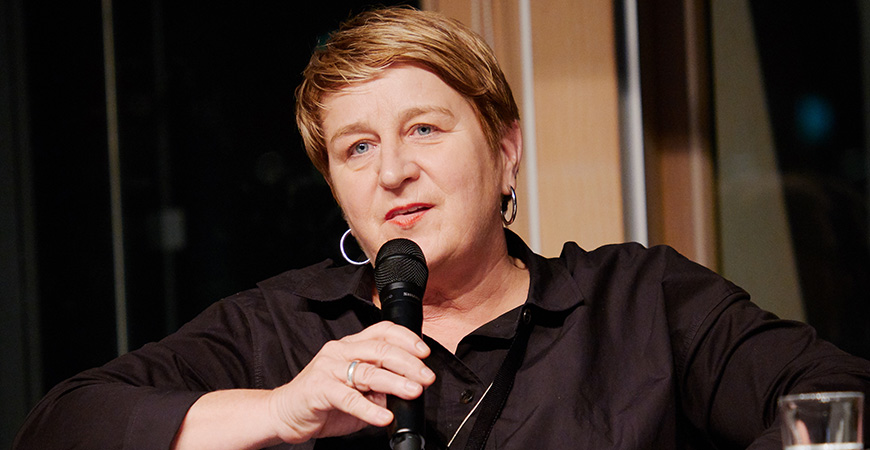 Maren Diale-Schellschmidt, Delegation of German Industry and Commerce for Eastern Africa, Kenya
Note
© Photos: Studio Fabian Hammerl / German-African Business Association (Afrika-Verein)